BBQSHOGUN UMAMI Series BBQ Source & BBQ RUB New Release!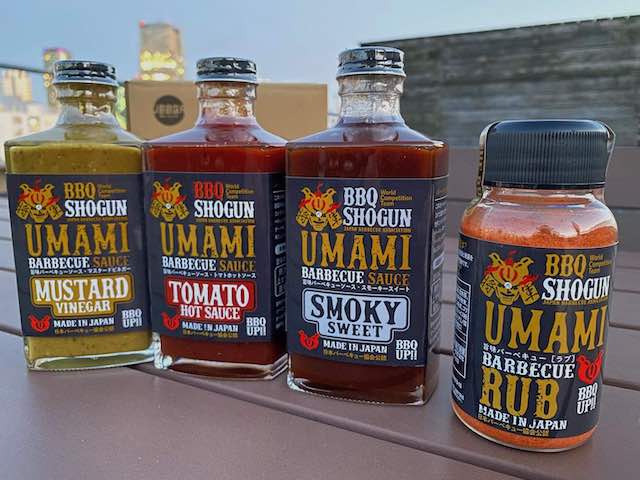 The BBQSHOGUN UMAMI series is a completely new barbecue sauce (tomato hot / mustard vinegar / smokey sweet) produced by the international barbecue competition team "BBQSHOGUN (Chief Cooker Japan Barbecue Association Chairman Tamio Shimojo)" who has entered barbecue competitions across the United States. It is a barbecue love that is a spice mix used for the taste of barbecue. The BBQSHOGUN UMAMI series is based on the barbecue flavor that the United States has cultivated over the years, adding the fifth taste "UMAMI" discovered by the Japanese, and creating a new Made in Japan premium barbecue flavor.
We hope that the BBQSHOGUN UMAMI series, a new barbecue flavor for Japanese, will help more than 20 million barbecue fans nationwide enjoy and enjoy a delicious barbecue life.
BBQSHOGUN Pitmaster Tamio Shimojo
BBQSHOGUN UMAMI Series
BBQ Source & BBQ RUB 2020 3月より新発売!

BBQSHOGUN UMAMIシリーズは全米各地でのバーベキューコンペティションにエントリーしているインターナショナルバーベキューコンペティションチーム「BBQSHOGUN(チーフクッカー 日本バーベキュー協会会長 下城民夫)」がプロデュースした全く新しいバーベキューソース(トマトホット/マスタードビネガー/スモーキースイート)とバーベキューの下味で使うスパイスミックスであるバーベキューラブです。BBQSHOGUN UMAMIシリーズはアメリカが長年培ってきたバーベキュー味をベースに日本人が発見した第五の味覚の"旨み(UMAMI)"を加え新しいメイドインジャパンのプレミアムなバーベキュー味として作り出した商品です。
日本人にとって新しいバーベキュー味であるBBQSHOGUN UMAMIシリーズが
全国二千万人以上のバーベキューファンのみなさんの楽しくて美味しいバーベキューライフにお役立ていただければ幸いです。

                                                     BBQSHOGUN ピットマスター 下城民夫

Three types of UMAMI sauce are Smoky seet, Tomato hot,
mustard vineger. UMAMIRUB is released all-purpose 1 type at the same time
UMAMIソース3種類はSmoky seet、 Tomato hot、Mustard vineger. UMAMIRUBはAll-purpose1種類同時発売
---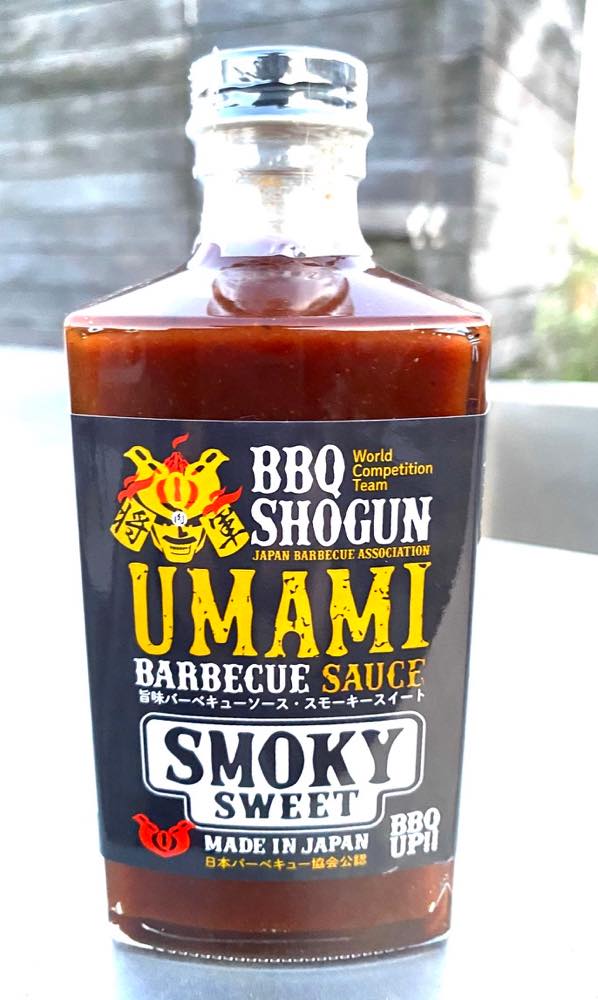 BBQ SHOGUN UMAMI BBQSAUCE SMOKEY SWEET
Authentic American barbecue sauce with smoky flavor. This alone turns the meat into an authentic American barbecue flavor. A well-balanced barbecue sauce with a sweet and sour taste, plenty of spices, umami ingredients familiar to Japanese people, and sweet dates are added to give a deep taste. Goes well with beef, pork and chicken barbecue,
スモーキーフレーバー入りの本格的アメリカンバーベキューソース。これだけでお肉が本格的なアメリカンバーベキュー味に変わります。甘く酸味もあるバランスの良いバーベキューソースにたっぷりのスパイスに日本人にも馴染みのあるうまみ成分と甘味の強いデーツを加え味の深みを出しました。牛肉、豚肉、鶏肉のバーベキューに合います。
---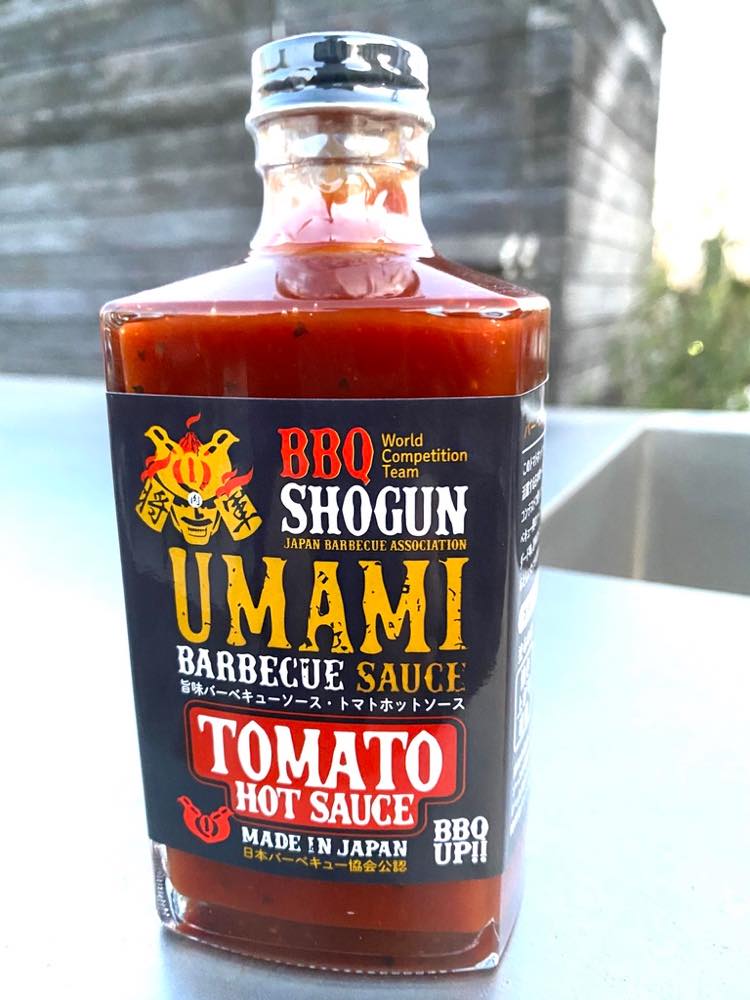 BBQ SHOGUN UMAMI BBQSAUCE TOMATO HOT
A spicy, authentic American barbecue sauce with a spicy, tomato-based royal road. Speaking of barbecue taste in the Central and South in the United States, this is the taste. The tomato flavor and the spices used in luxury are added, and the umami ingredients of kelp and shiitake mushroom are added to create a barbecue sauce that can be enjoyed by Japanese people. It is a bit dry.
ピリ辛でトマトベースの王道でスパイシーな本格的なアメリカンバーベキューソース。アメリカで中南部でバーベキュー味と言えばこの味です。トマトのうまみと贅沢に使った各種スパイスの切れ味、さらに昆布としいたけのうまみ成分を加え日本人にも美味しいと感じられるバーベキューソースに仕上げました。少し辛口です。
---
BBQ SHOGUN UMAMI BBQ SAUCE MUSTARD VINEGAR
The barbecue sauce using sour mustard is the home of barbecue.
Two kinds of mustards such as mustard are blended, and various spices and agave syrup of elegant sweetness are added with kelp and shiitake umami. It can be used for almighty, but it is especially suitable for chicken and pork dishes. Can also be used as a dip source.
酸味のあるマスタードを使ったバーベキューソースはバーベキューの本場アメリカの南東部のバーベキュー味。
粒マスタードなど二種類のマスタードをブレンドし各種スパイスと上品な甘さのアガベシロップに昆布としいたけのうまみ成分が加えてあります。オールマイティに使えますが特に鶏や豚料理に合います。ディップソースとしても使えます。
---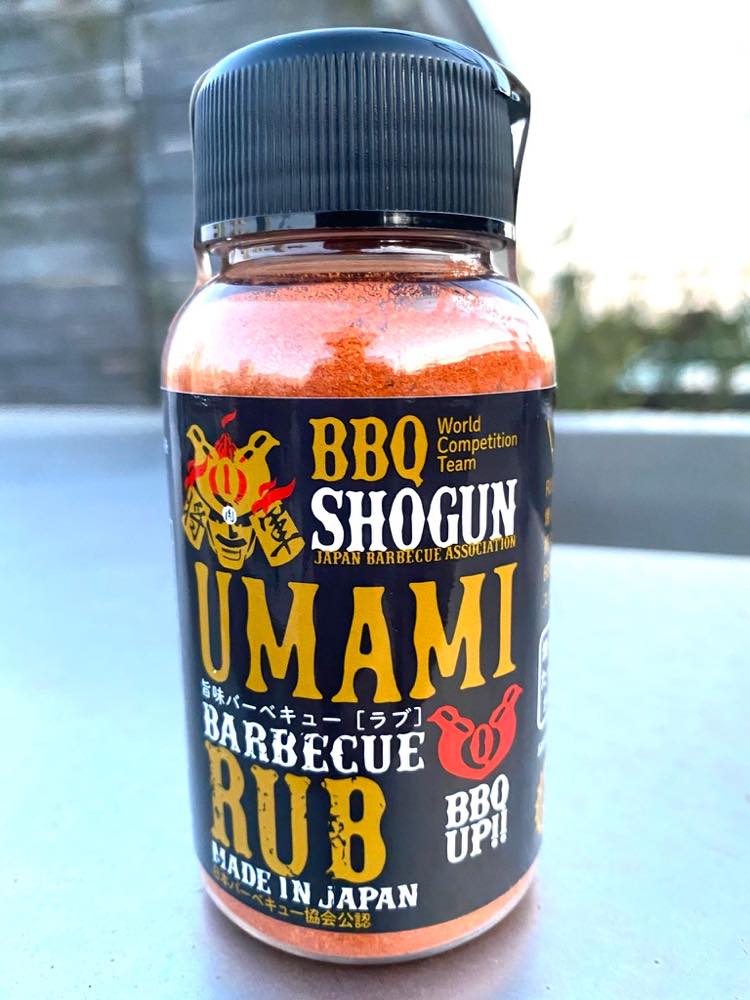 BBQ SHOGUN UMAMI RUB
BBQRUB (Barbecue Love) is a luxurious use of various spices and umami ingredients that are indispensable for making barbecue flavors. Sprinkle plenty of raw meat and rub it in. Put it on for a while and let the surface get wet before baking. For beef steak, add salt and pepper and then add UMAMI love to make it even more delicious. If you use salt after adding salt to the fish, the taste will be deeper. The red color is the color of the publica and is not hot. Add a barbecue sauce to the finish for a perfect barbecue taste.
BBQ SHOGUN UMAMI ラブ
バーベキューの下味作りでは欠かせない各種スパイスとうまみ成分が贅沢に使われたBBQRUB(バーベキューラブ)です。生肉の状態でたっぷりと振りかけ擦り込みしばらく置いて表面が湿ってきてから焼き始めてください。牛ステーキの場合は塩胡椒をしてからUMAMIラブをかけるとさらに美味しくなります。魚にも塩をしてからラブを使うと味に深みが出ます。赤い色はパブリカの色で辛くありません。仕上げにバーベキューソースをつけると完璧なバーベキュー味となります。
*BBQRUB(ラブ) とは肉にすり込むスパイスミックスの一般名称です。